PRODUCT CHARACTERISTICS
Espresso coffee machines 2 – 3 – 4 groups.
Models: • electronic with programmable keypad
• semiautomatic with buttons
• semiautomatic with lever.
Copper boiler in 11 – 14 – 21 – 27 litre capacities with thermostatic circuit.
Traditional temperature compensated group (4.4kg) or ring temperature compensated group (1,5kg).

Optional
T.C.I. – Separate temperature control
Electronic coffee temperature control device with separate boiler for each group.
Separate steam boiler, with hot water dispensed from heat exchanger .
Optional
Turbo steamer – Auto probe steamer
Cappuccino machine with internal probe for milk frothing.
AVAILABLE COLOURS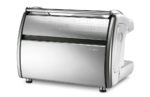 Steel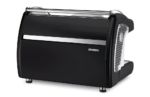 Black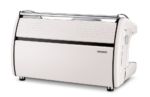 White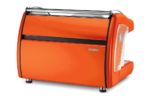 Orange